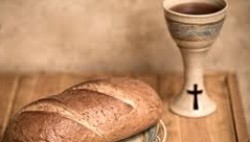 We normally celebrate Communion on the first Sunday of the month.  All are welcome to participate in Communion.  That means you!  Everyone is welcome at the Lord's table. Communion happens after the message and ushers will be in the aisles to assist you.
At Redford Aldersgate we usually take Communion by intinction, meaning you pull of a piece of bread, then dip it into the cup (grape juice) then eat it on your way back to your seat.  If you desire Communion but are unable to come up to the front, simply let an usher know and Communion will be brought to you.
If you do not wish to take Communion you are welcome to stay in your seat or to come forward and ask for a blessing, which is commonly indicated by placing your hands over your heart instead of outward to take the bread.
For more information on Communion in the United Methodist Church, check here.