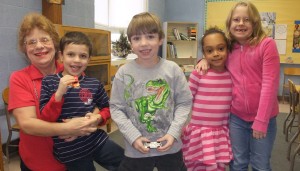 SCHOOL YEAR SCHEDULE:
There are many educational opportunities at Redford Aldersgate. On Sunday mornings at both services, children begin in worship with their family. Following the Children's Moment (usually about 1/3 through the service), there are classes for all preschool and elementary aged kids. Kids are divided into age groups (3 & 4 yr olds, Kindergarten – 2nd grade, 3rd – 5th grade).  Our volunteer teachers use a curriculum that helps our kids learn about the Bible and about faith and relate it to the ways we need to live today. Children learn through a variety of kinds of learning styles. Crafts, puppets, drama, video, games and other kinds of activities help make learning exciting. Nursery care for children under 3 is available for the entire service.
SUMMER SCHEDULE:
Similar to our program during the school year, children come to worship with their parents until the children's moment. After that, preschool thru 3 rd graders are invited upstairs for Sunday School. 4th grade and up are encouraged to stay with their family for worship.
ADULTS:
There are many learning opportunities for adults during the year. From Lenten study groups to our summer reading group, topical studies and ongoing small groups.  We encourage everyone to be growing in their faith through study and fellowship.  These opportunities are offered in the evenings as well as during the day to ensure everyone can participate.