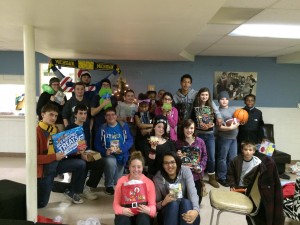 The youth of Redford Aldersgate are active participants in the life of our congregation. They also have their own fellowship and events throughout the year.
The best way to get plugged in to the youth group is to come to one of the Sunday gatherings.
See you there!
6th-12th grade
Every Sunday from 6:30 – 8:00 pm STARTING September 11, 2016

The GATE:  Youth Ministry shaped by Grace, Acts of Service, The Word, and Encouragement
Our Youth Group meets every Sunday from 6:30 – 8 pm.  All 6th-12th graders are invited to participate and are encouraged to bring their friends.  We will have music, games and snacks together and split the group into middle and high school for our time of learning about God's Word and how it applies to our lives.  Students are welcome to stay as late as 8:30 to play games or socialize.
If there is school on Monday, we are there on Sunday!
The youth group does a lot of other fun activities and outings throughout the year, including a week-long mission trip in the summer.
We have a weekly email to keep you posted on what's coming up – call the church office to subscribe. 313-937-3170
Check for upcoming activities or come see us on a Sunday and get involved!