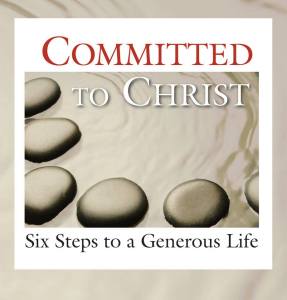 Committed to Christ is a six week campaign that will be in our worship services as well as small groups. All are encouraged to be in worship each week and select a small group to be part of. We have groups meeting during each worship service, and 5 other groups throughout the week, both daytime and evenings. Call the church office if you need a list of the options or want to sign up.
Our campaign starts today with small groups meeting at both 9:30 and 11 am. Pastors Jeff and Courtney will start the preaching series next Sunday October 12.
Each week in worship, you will get a chance to commit to an aspect of your life with Jesus – Prayer, Bible Study, Worship, Witness, Giving and Service. Each week, everyone will hear a message on the weeks topic and have an opportunity to fill out a commitment card about that topic. Those in small groups will also read and discuss a chapter from the Committed to Christ book.
We hope you will join us on this exciting journey! All are welcome to one service on November 16th to celebrate the campaign with church at 10 am and a meal to follow.